BREAD was established as a special legal business entity to generate funds to support the operations of the Mechai Bamboo School for deserving rural children of northeast Thailand. Families together with their children must perform 800 hours of community service and plant 400 trees per year rather than paying school fees in cash. The founder of BREAD and the Mechai Bamboo School has been involved in rural development, poverty eradication, environmental protection, and education for the last three-and-a-half decades.

This endeavor to help the Bamboo School become financially self-sufficient seeks partners and customers who share a common interest to support young people in their quest to obtain the tools and resources they need, to continue their education and secure a viable future.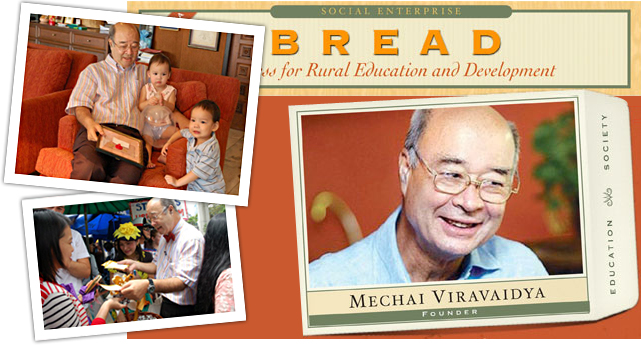 BREAD endeavors to earn profits for a social purpose and to build strong relationships with value to both business organizations and consumers.

It also emphasizes the importance of transparency and ethics in business operations with a strong mindset to meet the standards and efficiency of private enterprises. The result of this will allow BREAD to become a business organization that earns profits while engaging in community service, commonly known as a social enterprise.

I would like to take this opportunity to thank all those who have partnered with BREAD, as their participation not only enables them to purchase quality products at a reasonable price, but also gives them the chance to improve the quality of life for deserving rural Thai people.